The History of TYPSA Group 1966-2018
In the early years (1966-1975) TYPSA grew rapidly as a technical consultancy firm and was a major player in Spain's economic development. Some of its most emblematic projects include underground rail infrastructure for Madrid metro line 4 extension and the new lines 6 and 7; Málaga-Fuengirola railway; car parks in Plaza de España (Madrid) and the wastewater treatment plant in Butarque (Madrid). The first contract outside Spain was executed in the Dominican Republic, marking the outset of a distinctly international focus.
TYPSA becomes independent
In 1976, TYPSA separated from the construction group and became a completely independent company with 80 employees on the payroll. This was a departure from the norm for engineering firms operating in Spain at the time and greatly enhanced the firm's visibility. In the same year, TYPSA signed its first contracts in the Middle East, primarily in Kuwait and the United Arab Emirates.
The years between 1976 and 1981 were fraught with difficulties as a result of the serious economic crisis. TYPSA decided to focus on new markets outside Spain, especially in the Middle East and Latin America, working on designs which included the Guayaquil-Salinas highway (Ecuador), the Santa Elena Peninsula (Ecuador) water transfer, the Boorj Av. residential complex (Sharjah) and the expansion of the sanitation system in Kuwait.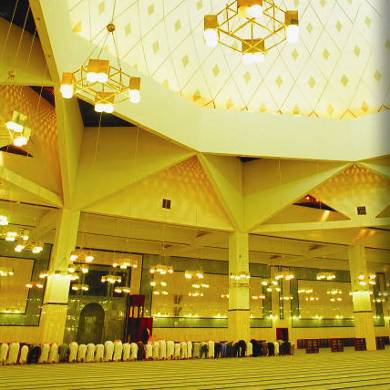 In 1978, companies from around the world competed to win the contract to design the new Islamic University campus in Riyadh, Saudi Arabia. TYPSA was the successful bidder for the largest architecture and civil engineering project ever awarded to a Spanish company, and one of the largest in the world at the time (a floor area of 2 million square metres and an investment of $2,000 million).
Regional office in Andalusia
In 1982 TYPSA signed the contract to provide construction engineering and supervision services for the Islamic University in Riyadh. The same year also saw the opening of the first Regional Office in Andalusia and its first commission was the design for the José Torán dam. New regional offices followed across the whole of Spain.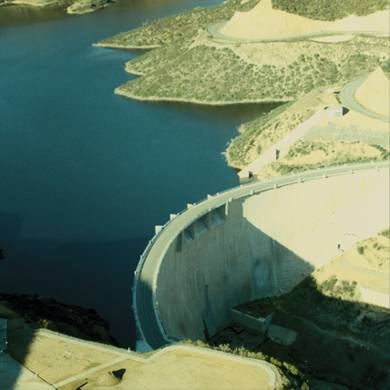 At the end of the 80s, TYPSA was making a major contribution to the development of transport infrastructure in the whole of mainland Spain: Madrid-Seville high speed railway, metros in Bilbao and Madrid (lines 1, 6 and 10) and Spain's National Highway Plan.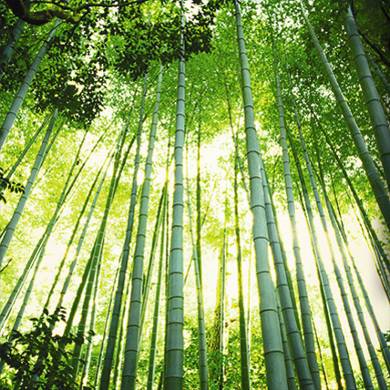 In 1990, in its determination to adhere to a working philosophy giving priority to environmental aspects in all projects, TYPSA created Tecnoma, as a specialist subsidiary to focus on the Environment.
Universal Exposition of Seville
TYPSA was responsible for supervising the site development works for the Universal Exposition of Seville, in 1992.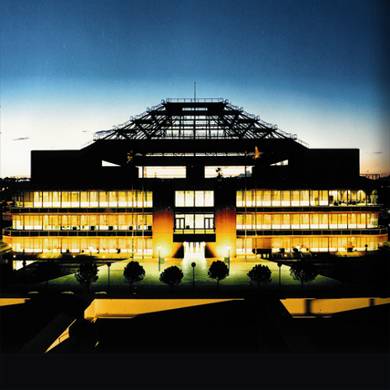 Between 1996 and 1998 TYPSA's Quality and Environmental Management System achieved ISO 9001 and ISO 14001 certification.
In 2001 TYPSA was awarded its largest Project Management contract in Spain: Grupo Santander City which also included detailed design and construction supervision.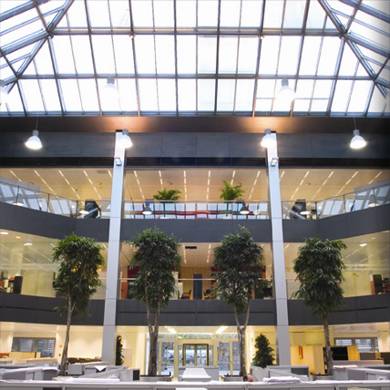 TYPSA Group headquarters inaugurated
TYPSA Group opened its new company headquarters in 2004, marking a milestone in its history and a step forward in a business project seeking public service excellence.
International expansion (21st century)
The twenty-first century has so far been characterized by significant international expansion, with new subsidiaries such as Tegepsa in Peru, TYPSA S.R.L. in Romania, TYPSA Ltd. in Bulgaria, and a new regional office in Dubai. Furthermore, the office network in Saudi Arabia has expanded and new offices in Central America have opened.
In 2006, TYPSA decided to consolidate its international strategy with a commitment to the North American market, purchasing Aztec, an engineering firm specialising in transport infrastructure, with its own office network in Texas, Arizona, California and Florida.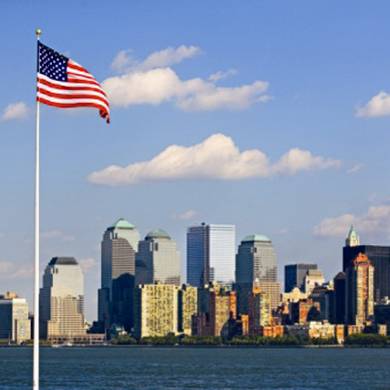 In 2008, TYPSA Group established a presence in Mexico creating MEXTYPSA under the Mexican legal framework. Likewise, in 2009, the Group entered the Brazilian market by acquiring Engecorps Ltda, a well established and highly esteemed Brazilian engineering company.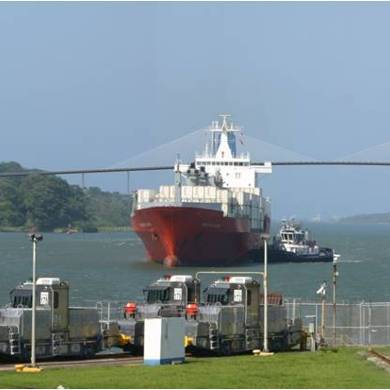 In July 2010, the Group expanded its presence in the North American market through the purchase of BHA, headquartered in Florida, bringing the Group workforce to 1,889 professionals. Subsidiary companies and permanent offices in Mexico, Brazil, Peru, Ecuador, Colombia, Bolivia, Chile, Dominican Republic, El Salvador, Costa Rica and Panama consolidated TYPSA's presence in the South American market.
Aware of the opportunities and great possibilities for growth in engineering, architecture and environmental consulting in Chile, the Group created a new subsidiary in Santiago, TYPSA servicios de ingeniería, in 2011. At the same time, the workload in Kenya was increasing at a remarkable pace and in view of the country's great potential TYPKEN Ltd was born as a new Group subsidiary to establish a permanent presence.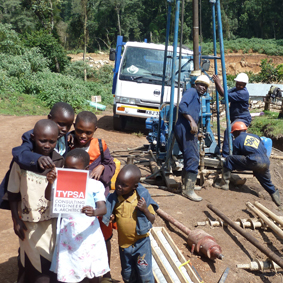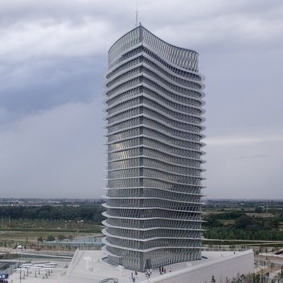 Agrer and MC2 join the Group
In 2012, the Group consolidated growth that demonstrates that a firm not only develops through international expansion, but also by strengthening areas of knowledge. Thus, when the Belgian company Agrer joined the Group, its long track record of experience in Africa complemented TYPSA's consulting services, while the acquisition of the specialist engineering firm MC2 Estudio de Ingeniería
enhanced specific structural engineering services, cementing TYPSA's capability in singular buildings and tower blocks, bridges, viaducts and walkways, large-span roof structures, sports facilities, special structures and rehabilitation in general. Both additions attest to the Group's commitment to growth and reinforcement in all directions.
In the same year, a new subsidiary was created in Colombia, TYPSA Colombia, securing the Group's presence after setting up as a branch the previous year.
Growth in the Middle East
From 2013 onwards, TYPSA grew significantly in the Middle East, and was involved in large metro, railway, water management and construction projects, all fostering infrastructure development in the area. TYPSA set up new offices in Riyadh and Al Jouf (Saudi Arabia), UAE and Qatar. This same year the Group absorbed its subsidiary Tecnoma and environmental engineering became part of TYPSA's services, managed by the Environment and Energy management area.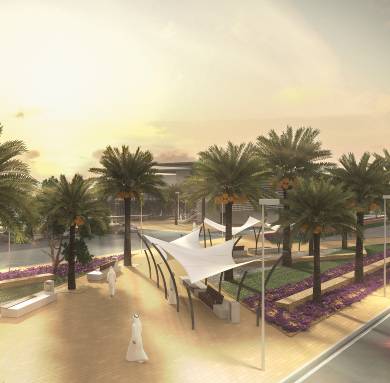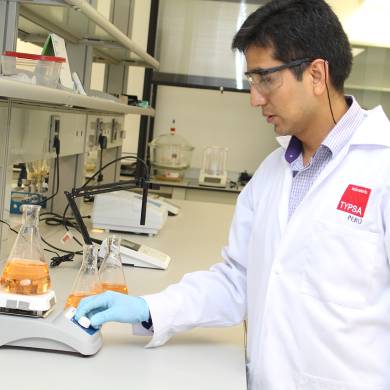 Environmental Analysis Laboratory
In 2014, the Environmental Analysis Laboratory was set up in Peru, enabling physical, chemical and biological properties to be analysed in America.
In 2015, the Group engaged in a firm commitment to the Southeast Asian market, opening an office in Singapore and winning a first contract in the Philippines.
Rauros zm joined the Group in 2015, bringing more than 20 years' experience in transport infrastructure inventories, inspection and management, and in pavement studies, especially for roads and airports.
TYPSA's 50th anniversary was perhaps the main, but not the only, highlight of 2016. Expansion into the Southeast Asia – Pacific region culminated with the opening of a new office in Sydney, Australia, to leverage the area's development potential for world-class infrastructure. The laboratory in Peru took a great step forward by becoming officially accredited for all types of water analysis. TYPSA's acts of solidarity, carried out through the TYPSA Foundation for Cooperation, were rewarded with the Rafael Izquierdo Solidarity Award, acknowledging the School of Civil Engineering that the Foundation set up in the Democratic Republic of the Congo.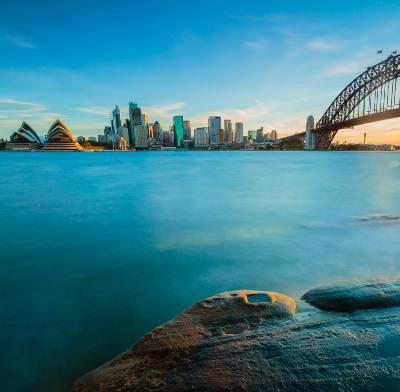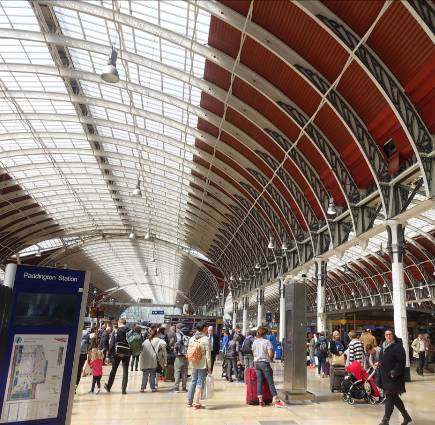 New subsidiaries in Europe
In 2017, TYPSA consolidated its presence in northern Europe. New subsidiaries were set up in Sweden (TYPSA AB) with an office in Stockholm, and in the United Kingdom (TYPSA Ltd.), with an office in London, in preparation for the UK's substantial investments in HS2 high speed rail linking the West Midlands, Leeds and Manchester. TYPSA also opened a subsidiary in Canada (TYPSA Inc.) with an office in Toronto. A permanent office was opened in Pakistan in 2017, after carrying out major works such as Lahore Airport.
In 2018 the Group gained new technical capabilities by incorporating INTEMAC. The new subsidiary brings expertise in assessing structural safety, durability and performance, its testing laboratory being the best-equipped in Spain. Another incorporation, the subsidiary Green Blue Management (GBM), comes with over a decade of experience in Sustainable Urban Drainage Systems (SUDS).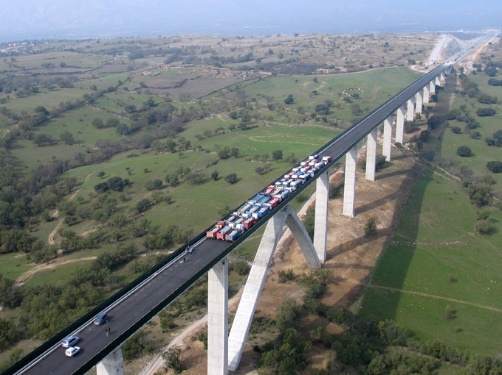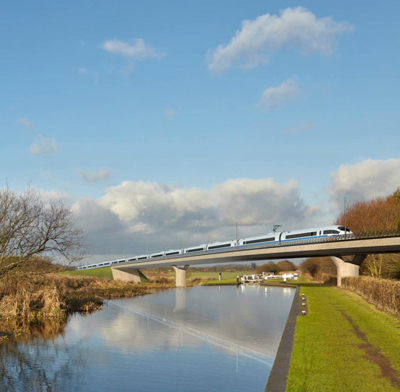 TYPSA Group continued to grow in Europe with new contracts in Sweden and Ireland, strengthening its position as a world leader in railways through high speed rail projects in the United Kingdom, India and California, and metros in Stockholm, Lima, Doha, Riyadh, Dhaka, Sydney and Toronto.