As one of our main axes of management, innovation keeps our knowledge-based services at the forefront of technology. We foster innovation through R&D, participating in numerous projects, often partnering with clients, Universities and Technological and Research Institutions, while our dedicated R&D Committee motivates, monitors and informs.
TYPSA aims to be an international benchmark for innovative solutions in the fields of civil engineering, buildings, renewable energy, and the environment.
This vision is the origin of the practical nature of TYPSA's efforts in innovation; of its commitment to a focus on solutions that improve societies through the quality of their cities, infrastructure, buildings and natural environment.
To this end, TYPSA can count on the exceptional capacity of its people, its track record in applied innovation, the contribution of specialized subsidiaries, the support of its technology-oriented departments, its consolidated innovation management system, and the commitment to make all these pillars of innovation grow. TYPSA recognizes that digitalization and new data-related technologies, combined with technical know-how, play a central role in all its markets.
GOING DIGITAL AND THE COLLABORATIVE WORKING ENVIRONMENT

RV(VR)2
Second generation virtual reality methodologies and tools for the design of buildings and infrastructure. New inputs focused on including virtual reality in production processes.

BE-PYTHON
Python for BIM design process automation for buildings.

BI-OPORTUNIDADES
Business intelligence tools for business opportunity analysis.

BIM-PM
Optimisation of processes to improve construction control and monitoring, further exploiting BIM-4D and developing new workflows.

AUTM.MFDI
Automation of BIM model federation and clash detection.

INFRAZERODT
Digital models as input data in infrastructure projects.

AP-MI-C3D
BIM process automation for linear infrastructure design.
SUSTAINABLE AND RESILIENT CITIES AND INFRASTRUCTURE

PVGRAd
3D simulation tool for optimising solar plants. New algorithms for optimising earthworks and foundation pile lengths.

REDCONECT
Physical-mathematical modelling to resolve wind farm and solar photovoltaic plant grid connection issues.

PAGADAF
Innovative tools for digital twins with an urban wastewater treatment plant and an office building as demo projects.

BE-ACCESS
Virtual reality applied to accessibility and emergency evaluation in infrastructure and building projects.

SIMOV
Combined development of pedestrian and vehicle mobility simulations.

BIM-RAIDER
Augmented reality technology for use in the operation and maintenance phase of port infrastructure.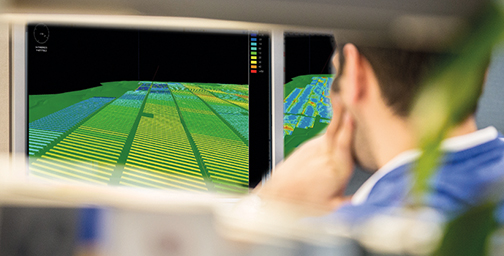 CONSULTING, ENGINEERING AND ARCHITECTURAL EXCELLENCE

PESTO
People and Smoke Evacuation for Tunnels under Operation. New tool for combined evacuation and smoke studies to address tunnel fires.

MAESTRAL
Improvement and automation of wind generator structures.

ACOM-SR
Advanced constitutive models for soils and rock.

CFD-VENTILACIÓN
Computational fluid mechanics tools for ventilation design in large underground works.

ENHANCINGFRC
Optimisation of fibre-reinforced concrete design in tunnels and underground works.

GEO-PROB
Probabilistic analysis for the study of port foundations.