Arizona Department of Transportation (ADOT) is executing the largest urban freeway reconstruction project in its history with the I10 Broadway Curve Improvement, which runs along 11 miles (17.7 km) of Interstate 10 between Loop 202 (Santan/South Mountain Freeway) and I-17 near Phoenix Sky Harbor International Airport. On an average weekday, nearly 300,000 vehicles travel through the I-10 Broadway Curve making it a critical connection for the regional freeway network in Phoenix.
The reconstruction is being carried out as a 'design-build project' and TYPSA Group, through its subsidiary AZTEC, together with two other prestigious engineering companies, is preparing the final design for the JV developing it under a 'Public-Private Partnership' scheme.
Improved regional mobility and access to business districts through public-private participation
This large-scale project consists of widening the I-10 to six general purpose lanes and two high occupancy vehicle (HOV) lanes in each direction between US 60 (Superstition Freeway) and I-17, directly connected to SR 143, plus a fourth lane in each direction, between Ray Road and US 60. Parallel collector/distributor roads are added to the I-10 between Baseline Road and 40th St. to separate I-10 traffic from local traffic. All this involves replacing the Broadway Road Bridge and 48 Street Bridges on the I-10 and widening the I-10 Bridges over Salt River. New bridges for pedestrians and cyclists will be built over the I-10 between Baseline and Broadway Roads, and the Sun Circle Trail crossing at Guadalupe Road will be improved.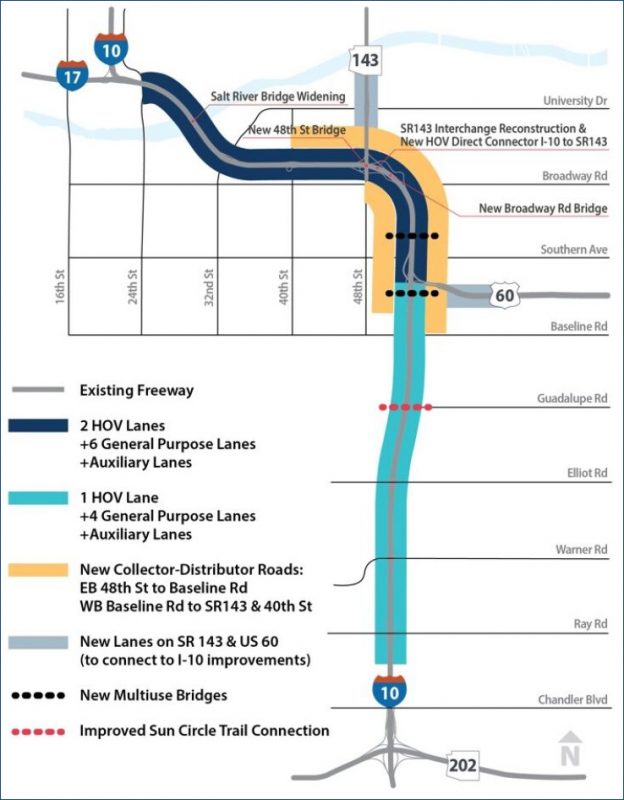 AZTEC is executing the design segment for south-to-east and west-to-north traffic movements, including an embedded high-occupancy vehicle ramp (HOV), which requires the complete reconstruction of the Interchange ramps, the mainline and crossroads to make the DHOV flyover ramp fully operational. Efforts include two miles of I-10 and SR 143 freeway reconstruction, 0.5 miles of arterial streets, one diamond interchange, 10 bridges, 12 interchange ramps, on/off site drainage system, lighting, signing/marking, landscaping and major utility relocations.
Work is progressing at a good pace and is expected to be completed within a year.
As of the end of July 2023, the project has surpassed some significant construction milestones that have allowed the planned acceleration of construction toward the finish in November 2024. Three new critical bridges have been opened to traffic allowing for the demolition of the three existing bridges that were the primary bottlenecks to maintenance of traffic and construction.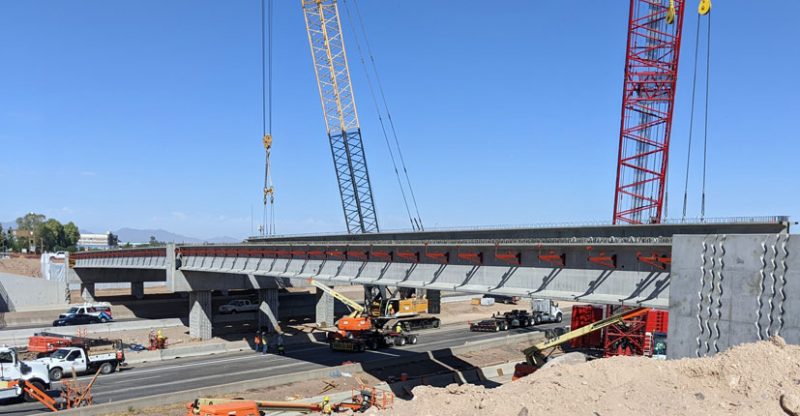 Work is proceeding at a blistering pace to complete the major direct connector bridges for the new System Interchange that is now quickly taking shape along with significant roadway paving operations for the various new roadways and lanes being constructed.